Appliance TMS by Almetis is a secure multiservice platform realized with our customers in an approach of a just expense for a just need.
Almetis TMS is the first trusted solution designed in a modular and prefabricated factory fashion, offering a multiservice offer on the same ultra-secure technology base, designed in close collaboration with our technology partners.
To provide a multiservice platform, Almetis has put all its know-how of software and hardware vendor to design a technical architecture, validated by our partners, allowing to receive multiple services of high performance.
This modular and prefabricated approach integrates by design scalability in terms of performance and capacity, while being sized to deliver efficient and controlled services directly under the operational control of our customers.
Appliance TMS by Almetis
A platform based on 4 pillars :
a know-how and a know-how of software and hardware vendor
a team of functional and technical experts
an approach that respects international standards (eIDAS, PAdES…)
a technological architecture designed with an ecosystem of partners
A multiservice platform :
The platform offers a scalable combination of integrated application modules.
Sign & Timestamp from 500 to 140,000 documents / hour in high availability according to your constraints !
Almetis SSV is the institutional signature solution for the automated processing of large volumes of PDF documents. Almetis SSV signatures are recognized and verifiable worldwide with the leading PDF readers on the market. For the creation of signatures, Almetis SSV uses "server cache" type certificates, that is, certificates allowing the signature of electronic documents on behalf of a legal entity.
Almetis TSA is the time-stamping solution that uses the cryptographic resource of the Almetis TMS appliance to provide countermarks of time according to the time-stamping policy defined with our customers.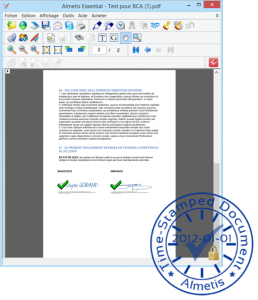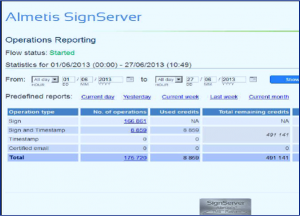 Deliver & Manage digital identities for all your collaborators, partners and equipment !
Almetis PKI is a secure application that uses the cryptographic resource of the Almetis TMS appliance to provide electronic certificates to people and objects.
Together with Almetis TOMS, a Card Management System solution, each organization can protect your group's access, data, exchanges worldwide with our Secure Corporate Cards.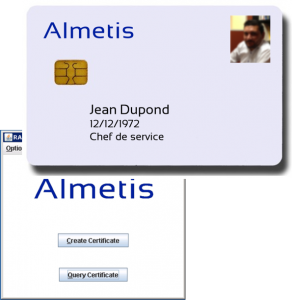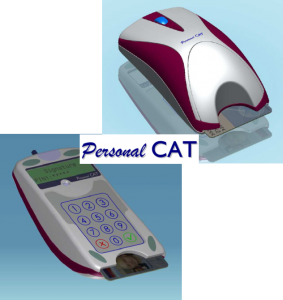 Electronic archiving to secure all documents of an organization !
The Almetis eRMS module allows you to archive documents of any type over several calibrated levels of service to ensure payment according to the rules defined with our customers, lifecycle storage, final destruction and reversibility (an NF compatible solution Z042-13, ISO 27001, eIDAS).
Traceability of events, consultation and research are defined according to the accessibility policy agreed with our clients.
The archiving service is optimized and adaptable by levels of services to limit the costs of preserving your documents.
With the electronic archiving solution, our customers have the assurance of keeping their documents for a very long time.
With Almetis full service
Maintenance in operational conditions – Supervision – Remote administration – Information system architecture study – Recommendation – Installation – Integration – Exploitation.