For your quotes, contracts, invoices, letters … and your responses to dematerialized tenders, go from the handwritten signature to the electronic signature PDF Almetis Essential!
ALMETIS ESSENTIAL, FOR YOUR CERTIFIED ELECTRONIC SIGNATURES
Today, computer storage problems no longer thanks to servers, external hard drives, or the cloud. You can do without expensive and cumbersome "paper".
Electronic signature, with permanent access to documents on your computer no matter where you are, is a source of efficiency and productivity. This allows you to respond to new requests for exchange of digital documents, in particular to secure all parts of your answers to calls for partners.
Directly accessible in Microsoft Office and Libre Office office suites, Essential allows you to get your PDF document in one click and sign it.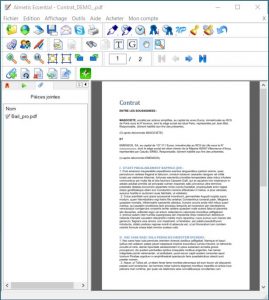 Almetis Essential, a real PDF manipulation tool
In addition to its signature features, Almetis Essential allows you to manipulate your PDFs to add, delete and extract pages, write or annotate and create documents composed of attachments.